Research Report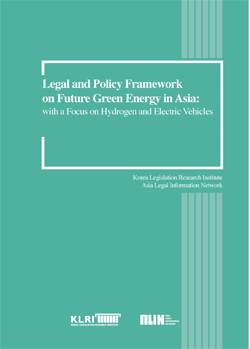 LEGAL AND POLICY FRAMEWORK ON FUTURE GREEN ENERGY IN ASIA: wirh a Focus on Hydrogen and Electric vehicles
For the last few decades, the world has come to realize the destructive power of climate change to the earth caused by man-made activities. Since the first United Nations Framework Convention on Climate Change (UNFCCC) in 1992, the global community has put collective efforts to bring down greenhouse gas emissions and to avoid using fossil fuels that could contribute to climate change. 
With the historic Paris Agreement adopted in 2015 which brought 194 UNFCCC parties to the agreement, the world committed to mitigate GHG emissions and accomplish carbon neutrality by 2050. Now countries around the world have their own strategies and policies to meet net-zero emissions and at the same time to continue sustainable growth. 
Developing sustainable energy sources is one of the key elements of sustainable growth. We have been witnessing the global movement of developing technology for renewable energy that minimize adverse effects to the environment yet to ensure stable energy supply. In addition, advanced countries have implemented initiatives to ban internal combustion engine vehicles and promote environmental-friendly vehicles for reducing emissions in the transport sector which is one of the main emitters. 
Against this backdrop, the publication of the research 'Legal and Policy Framework on Future Green Energy - with a focus on hydrogen and electric vehicles' by Korea Legislation Research Institute (KLRI) is very timely. It provides us with a rare opportunity of glancing at the legislation and policy on renewable energy and green vehicles of countries some of which may have been out of the limelight of the world's political arena. 
KLRI has taken great interest in climate change and environmental issues and has carried out various legislative research on relevant laws and policies. As the Secretariat of the Asia Legal Information Network (ALIN), KLRI organized this joint research project with the 12 institutional members out of 36 ALIN member law schools and legal research institutes of Asia and the Pacific.
The sixteen authors from thirteen countries wrote the legal and policy framework on green energy of their countries and on green vehicles, particularly electric vehicles and fuel cell electric vehicles. Their papers show the various stages of the development of the related laws and policy of these countries and of the status quo of the market and industries. Although the current situations these countries face differ, the papers show that the sense of urgency in coping with climate change and the commitments therefor are shared by all. 
I hope that readers find it interesting to see the thirteen countries' different legislation and policy on green energy and vehicles, their economic and technical development, and limits and challenges thereof. I am deeply grateful to all authors for their valuable work and to contributors who have played their roles in getting this research published. 
II. LEGAL AND POLICY FRAMEWORK ON FUTURE GREEN ENERGY IN ASIA
 Part III  Southeast Asia
173
III. FINAL OBSERVATIONS
455